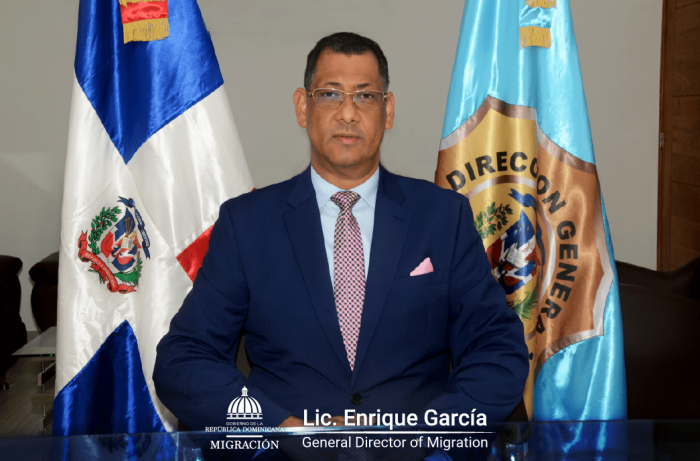 ---
Enrique García Sánchez
Appointed General Director of Migration, through Decree 329-20, issued by His Excellency the President of the Republic, Luís Rodolfo Abinader Corona.
He has specialized with the different master's degrees:
Administrative Law and Municipal Management, Castilla La Mancha University. Spain, 2016.
International Law and Diplomacy, University of the Third Age (UTE), Rep. Dom. 2015.
Master in Law and Constitutional Procedure at the Autonomous University of Santo Domingo. (UASD).
Post-Graduate in Constitutional Law, University of Salamanca Spain, 2003.
Bachelor of Laws, Technological University of Santiago, Santo Domingo, 1999.
He was General Director in the ARMJ Justice Reform and Modernization Project, in (2000-2004), a period that worked with the proposal and approval of the current Criminal Procedure Code and the adequacy of its entry into force.
As director general facing the challenges of the General Directorate of Migration, as a Strategic organization of national security and fundamental for the preservation of territorial integrity and that includes migratory aspects through airports, docks and ports and border points, especially supporting the implementation of a comprehensive migration policy aimed at complying with Law 285-04 in a Social and Democratic State of Law, that is, a country where legality, dignity and due process are pillars of vital importance for development in society.
Other studies:
■ Specialty in Cross-examination, Puerto Rico Bar Association, 2003.
■ Training Seminar on Legal Cooperation, AECI Colombia, 2003.
■ Cybercriminality, National School of the Magistracy, Paris, France, 2003.
■ Judicial System of the State of Florida, Bar Association of the Dom. Rep., Santo Domingo 2003.
■ Studies in Financial Crimes and Human Rights, International Federation of Bar Associations Santo Domingo, 2003.
■ Study of Comparative Law, Autonomous University of Mexico (UNAM), 2003.
■ International Congress of Criminal Sciences, Office of the Attorney General of Cuba, Havana, 2002.
■ Effective Implementation of the New Money Laundering and Financing of Terrorism Law, PNUFID Santo Domingo, 2002.
■ Seminar on the Evolution of the Penal System, National School of the Judiciary, Paris, France, 2001.
■ International Meeting on Law and its Challenges, Institute for the Development and Research of Law, Havana, Cuba, 2001.
■ International Course on Administrative Corruption, International University of Florida Miami, 2001.
■ Investigative Techniques of Evidence Organization, PNUFID, Santo Domingo, 2001.
■ 1st. International Meeting of Public Defenders, Justice Studies Center of the Americas, Santiago de Chile, 2001.
■ Child Protection Systems, CIF/AECI Guatemala, 2001.
■ 1st. Central American Congress of Public Defenders, USAID El Salvador, 2000.
■ Anti-Corruption Conference 2000, Inst. Consortium on Gov. Financial Virginia, USA.